Sell your new & used Books, Textbooks, CDs, Movies, Games, and Game Systems items on Half.com. The items you list for sale will be seen by millions of potential buyers. Half.com takes a small commission when your item sells. We only get paid when you do!

Just follow these easy steps to list your item for sale on Half.com:

If you're not already a registered Half.com or eBay seller, you first need to register. Registration is free and only takes a few moments.
Click "Sell Your Stuff" at the top of the home page or click on the "Sell Yours Now!" link on any product page to begin the listing process.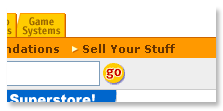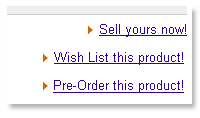 Use our quality ratings to choose the condition and type in a product description (e.g. "Still in shrink wrap", "Dog bite marks on cover", etc.).

Set your price and select your shipping method.

"Sell It Now" option: If a buyer has Pre-Ordered the item that you are listing for sale, the next page will offer you the option of selling your item for the amount specified by the buyer. If you decide that you would like to fill the Pre-Order, check the box for "Sell It Now for $<xx.xx>".

Otherwise, if you wish to decline any "Sell It Now" option, click "List Item" to finalize the listing process at your personalized set price.

To check on your sales, access your Sales page in the My Account area. Here you will see your Sales from the past 7 days.

As soon as an item(s) sells, we'll send you an email. You just need to confirm your sale, pack it up and ship it.

We pay sellers via Direct Deposit or paper check. Payments via Direct Deposit are paid twice monthly. Half.com's commission will be subtracted from your payments. Read more about

s

eller payments.

Manage your inventory using our inventory management system located in the My Account area of the site.


Half.com Shops is an area on the site that enables easy browsing of your full inventory. As a Half.com seller, you automatically get a Shop for FREE!

If you have a lot of items to sell, find out how Half.com's Multiple Listing Page and File Exchange can help you list a lot of items quickly and easily.



Learn more about selling